Under development: each section will have its own webpage to communicate local events and information.
H. Em. Fernando Cardinal Filoni, Grand Master, is offering a Lenten meditation in the form of a podcast.  "The season of Lent invites us to live spiritually and concretely the dimensions of prayer and charity. A few passages on these two themes taken from the book – "(cfr. pag. 64-75) And the whole house was filled with the fragrance of ointment" could help our reflection."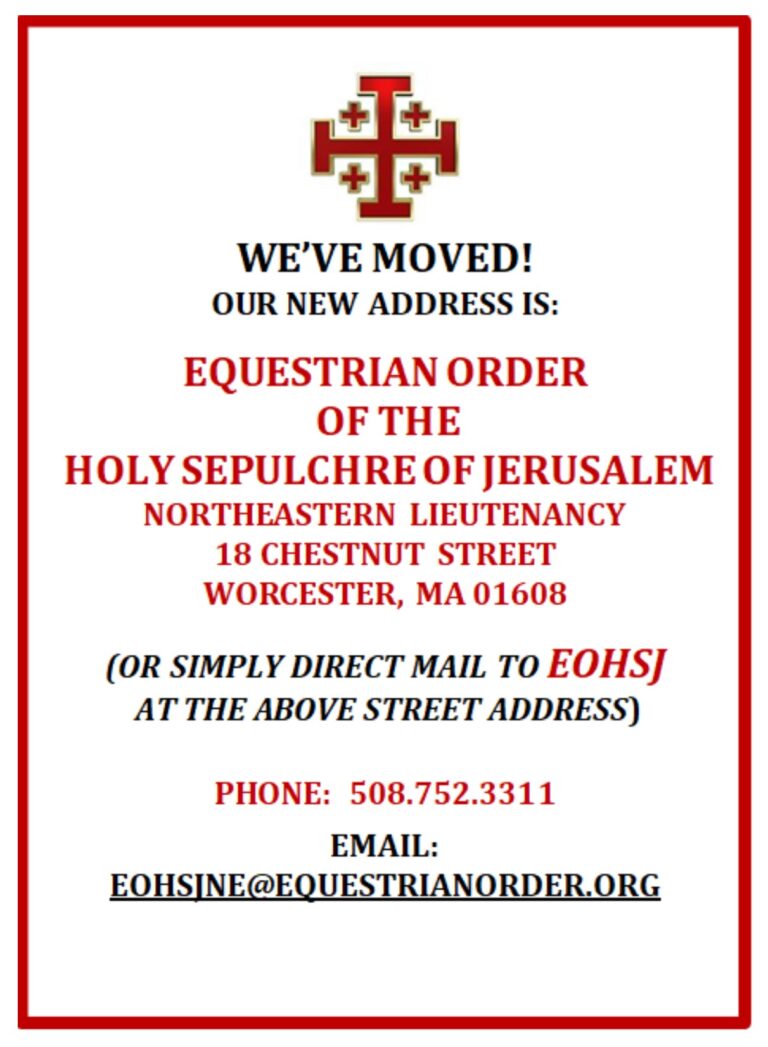 H. Em. Fernando Cardinal Filoni, Grand Master has produced three podcasts in preparation our October 25th observation of the Feast of Our Lady of Palestine..  Listen Here…
Easter Message from the Grand Master
Easter is a "story" that is passed on and an "event" that continues. It is not a simple recurrence of the religious calendar, even if it is sometimes perceived that way; nor is it merely an annual event.  Read more…
Easter Reflections 2021 from Sami El-Yousef
I had the full intention to send these reflections last week during the Holy Week. However, my 99-year old dad passed away peacefully on Palm Sunday and I was preoccupied with the funeral arrangements and coming to terms with our loss.  Read more…
Vice Governor General of Honor, H.E. George T. Ryan, KGCHS Enter Eternal Rest
With deep sadness, we announce the passing of H.E. George T Ryan, KGCHS, Vice Governor General of Honor.  George joined the Order in 1982 and was appointed Vice Governor General in 2002.  Click HERE to read his full obituary.
Our Lady of Palestine – Pray for him!
Pope Francis Appoints Latin Patriarch
His Holiness, Pope Francis has announced the appointment of Archbishop Pierbattista Pizzaballa as the Latin Patriarch in Jerusalem after his service as Apostolic Administrator for a period of four years.
With feelings of joy and gratitude, the family of the Latin Patriarchate in Jerusalem, Amman, Nazareth and Cyprus, in particular the bishops, patriarchal vicars, priests, deacons, seminarians, religious men and women, consecrated men and women, the People of God in all the parishes as well as the workers in the diocesan institutions, congratulate the new Patriarch wishing His Beatitude success in carrying out his exceptional responsibilities, especially in these unusual circumstances. May His Beatitude be granted good health and divine blessing to continue serving our Local Church, while promoting peace, justice and reconciliation.
Message from the Grand Master
On December 8 last, the Holy Father Pope Francis appointed me Grand Master of the Order of the Holy Sepulchre of Jerusalem. I was deeply moved on receiving this news.
Almost immediately, I was inundated by greetings and congratulations from the Grand Magisterium, and Lieutenants from around the world, from Knights, Dames and Clergy.
I would like to thank you all for the attention and consideration that you have shown me. I wish to express my particular gratitude to His Eminence Cardinal Edwin O'Brien, Grand Master emeritus; I think especially of his generous service, wise and competent leadership exercised over the course of these years.
As I extend to you all my first greeting, dear Members of the Order, I would also like to wish each and every one a very Merry Christmas: May it be a privileged moment of reflection on our encounter with the divine humanity of Jesus who appeared in Bethlehem, and allow ourselves once again to share in the amazement of the Wise Men and the Shepherds. Bethlehem and Jerusalem are the two poles that enclose the mystery of our faith.
Merry Christmas and a Happy New Year 2020.
Cardinal Fernando Filoni appointed Grand Master of the Order
By decision of the Holy Father, His Eminence Cardinal Fernando Filoni has been appointed Grand Master of the Order of the Holy Sepulchre starting this December 8 2019, Solemnity of the Immaculate Conception. Published below is the official communiqué of His Eminence Cardinal Edwin O'Brien, Grand Master of the Order since 2012, who concludes his mandate a few months after reaching the age of 80.
"It is with complete acceptance and appreciation that I welcome the decision of Pope Francis to replace me as Grand Master of the Equestrian Order of the Holy Sepulchre of Jerusalem. I am especially pleased that His Holiness has appointed His Eminence Fernando Cardinal Filoni as my successor.

I have been privileged well beyond the time of my letter of resignation, submitted over five years ago. Throughout my more than eight years as Grand Master, my personal faith and love of our Church have deepened as I have witnessed our members' commitment to the goals of our Order, expressed in different cultures and languages, all profoundly Catholic!
I am most grateful to the two Governors General with whom I have served, Their Excellencies, Professor Agostino Borromeo and Ambassador Leonardo Visconti di Modrone. Our collaborators in the Grand Magisterium and the daily, dedicated service of our office staff largely account for the steady growth of our Order. Their commitment to our lieutenancies and to the mission of the Latin Patriarchate has been unwavering.
Finally, I welcome His Eminence, Cardinal Filoni as Our Grand Master. His long and broad pastoral and administrative experience in service to the Universal Church will be precious assets as he leads our Order into the future. I offer him my full and fraternal support as I beg the continued intercession of Our Lady of Palestine.